Events

Friday, August 28 – Sunday, August 30
The Falci Adaptive Motorsports NASCAR Cup car will be featured at Colorado's largest rockabilly festival held at Pikes Peak International Raceway. Guests will enjoy live music, motorsports, food and fun for the entire family.


Thursday, October 3rd
Dover International Speedway

7:00 AM 8:30 AM – Falci staff, drivers, and speedway staff meet for breakfast, event orientation, and
uniform change. Track side media center
8:30 AM 9:00 AM – Move to staging area (Track Side)
9:00 AM 11:00 AM – Adapt vehicle rides with cup driver
11:15 AM 1:30 PM – Adapt drivers take the control's
1:30 PM 2:00 PM – Media opportunity
2:00 PM – Return to meeting room for post event comments, clothing change, and program conclusion.

Saturday, September 21, 2019

Wednesday, April 10, 2019
Richmond Raceway – 600 E Laburnum Ave, Richmond, Va. 23222
9-10:45 a.m. – Paralympians will ride along as a passenger with Christopher Bell
10:45 a.m. – 12:30 p.m. – Paralympians will drive the adaptive Bass Pro Shops/Toyota Camry

TEXAS MOTOR SPEEDWAY
Thursday, March 28
9:00 AM 12:00 PM ADAPT EXPERIENCE ON TRACK
Friday, March 29
10:30 AM 8:00 PM NASCAR CREDENTIALS OPEN
2:05 PM 2:55 PM MENCS 1ST PRACTICE
6:40 PM (7:40 PM) MENCS QUALIFYING (MULTI-VEHICLE / THREE ROUNDS)
Saturday, March 30
6:30 AM 12:00 PM NASCAR CREDENTIALS OPEN
8:05 AM 8:55 AM MENCS 2ND PRACTICE
10:30 AM 11:20 AM MENCS FINAL PRACTICE
12:00 PM (1:00 PM) NXS RACE (STAGES 45/90/200 LAPS = 300 MILES)
Sunday, March 31
8:30 AM 2:00 PM NASCAR CREDENTIALS OPEN
2:00 PM (3:00 PM) MENCS RACE (STAGES 85/170/334 LAPS = 501 MILES)
SUCCESS AT THE MONSTER MILE!
Paraplegic and Quadriplegic Individuals drive Falci Adaptive Furniture Row Cup Car
For the first time in years, quadriplegic individuals drove. But they didn't just get behind the wheel of any car. They were able to drive an specialized, adaptive NASCAR Cup Car around the infamous Monster Mile in Dover, Delaware.
Drivers with limited or no control of their arms and hands used cutting edge technology built into the car to steer, accelerate and brake using only their head and mouth. A specially designed helmet, help drivers steer left and right, while "sip and puff" technology assisted drivers in accelerating and braking.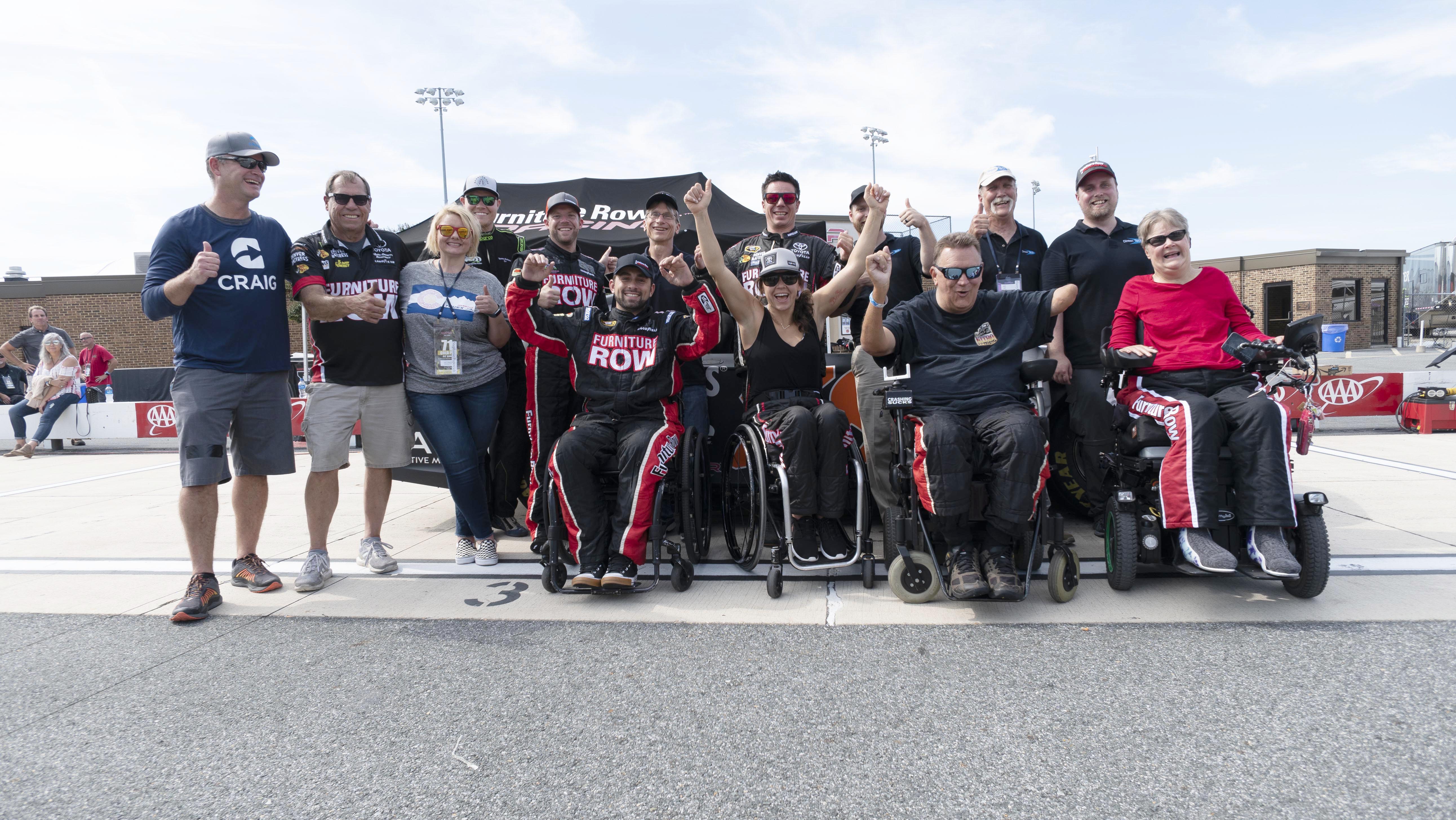 MORE EVENTS ARE COMING FOR THE 2019 NASCAR SEASON. STAY TUNED!